Posted by: Jen | on April 20, 2014
Hope everyone is having a nice Easter today. The Easter "event" ingame started earlier this month so there wasn't anything too different for the actual day. Still new favors though:
-Resident wanted 3 Emerald Bubbles
-Fairy Godmother wanted 3 Fairysilk Leaves
-Resident wanted 15 Golden Sand
-Resident wanted Caravan Cloth
-Dale wanted 3 Beefy Acorn
After Easter celebrations, it was evening and thus, the time for the evening favors:
-Resident wanted 3 Soap Bubbles
-Yen sid wanted 3 Royal Platinum Bubbles
-Resident wanted 3 Pearl Bubbles
-Huey wanted me to solve his riddle
-And this time, it seems no 3rd Resident favor this evening… So weird!
I also did card trading throughout the day. New cards I managed to receive from Characters, SpotPassers and trading:
-Disney Princesses 09
Finally, more Nintendo Zone information–this site mentioned that the Nintendo Zone stuff would be from April 18th to August 7th. If we go by the schedule in Japan…



The schedule should be something like this (Originally I tried a week, but that meant we'd have all the items by June–so it's most likely two weeks over each week like it was in Japan):
Pinocchio Doll Set – April 18th-May 1st
Pinocchio Themed Chair, Table, and Counter – May 2nd-May 15th
Pinocchio Food Set Part 1 – May 16th-May 29th
Pinocchio Themed Cabinet, Fish Bowls, and Wall Clock – May 30th-June 12th
Pinocchio Outfit Set – June 13th-June 26th
Pinocchio Bed, Wallpaper, and Flooring – June 27th-July 10th
Pinocchio Food Set Part 2 – July 11th-July 24th
Green Polkadot Minnie Outfit – July 25th-August 7th.
At the very least, it does seem the item order is the same thus far and this hopefully means we are getting the Green Polkadot Minnie Outfit which was up for debate so yay.
And to end this off, the other finished drawing by Super Donut 😀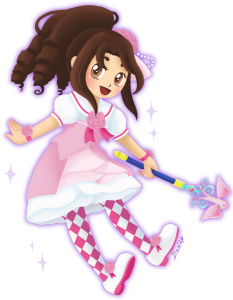 Note: I received the game early from Nintendo. Thank you, Nintendo! 😀