Posted by: Jen | on April 12, 2014
While I currently no longer need anymore Starfall Radish, the garden search is not over yet because I still need Royal Roses. I saved in my bedroom last night and was greeted to 6 SpotPass visitors! I'll be having a lot of visiting to do… But let's start with some morning favors first:
-Resident wanted to see me in a Western Outfit.
-Resident wanted 3 Soap Bubbles.
-Yen sid wanted 3 Royal Platinum Bubbles.
-Aurora wanted 3 Fairysilk Leaves.
-Resident wanted to see me in the Mickey Chef outfit and gave me the final Easter dish recipe!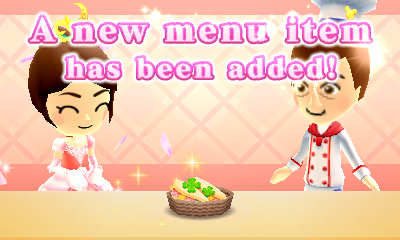 Yeeeees. Just 3 things left now!
Beast also wanted to take a picture: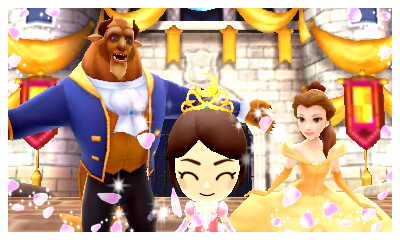 Once I finished grabbing cards from everyone, I headed to the Castle. Apparently I already earned a new greeting! But I wanted to trade cards first. I managed to get a bunch of new cards so yay 😀 Thus, new greeting time!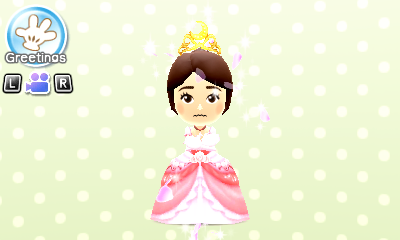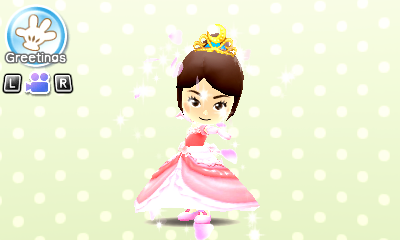 "Shiver and Shudder" and "Turn and Wave Over"–the latter which many characters enjoy doing in pictures. GIF FORM:

My boyfriend's game arrived so I made sure to scan the AR Card included in the Pamphlet in the box. I've scanned it before though so I just got a Purple Cosmos Seed. It was then off to visit people's cafes!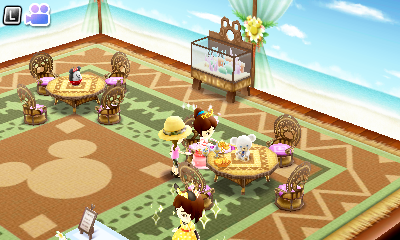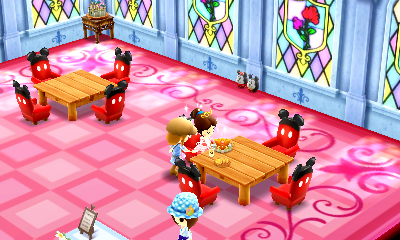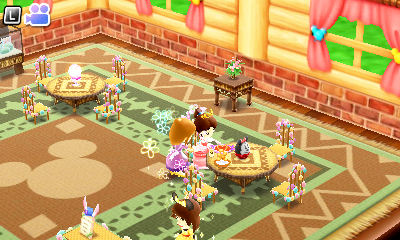 There were tons of new ones on the normal list too.
On the way out, I decided to hold another Easter party and I got Goofy, Donald, and Daisy which finishes up the Easter theme for me: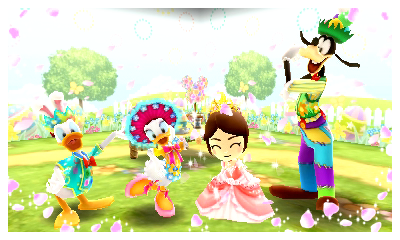 I really love the cute chicken on Goofy's hat. I wish that was an item.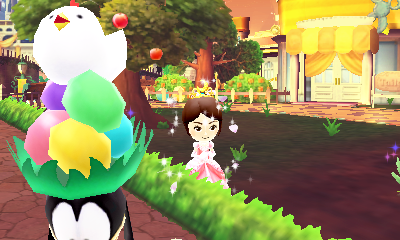 It was then finally time for Wonderland. Unfortunately, I was feeling pretty terrible today (ironically, due to being allergic to roses) which meant progress was a bit slower today… Although, I'm not sure progress is the right word considering nothing was really accomplished 3 (and of course, once I do these I have to start the quest for Honey Carrots to get Spooky Carrots) After several goes, I finally got one. It hit 5PM though so I decided to see what the evening requests were: -Resident wanted a Golden Camel Handicraft -Goofy needed Denim Leaves -Bashful wanted 5 Soap Bubbles. -Resident wanted to see a Western outfit -Resident wanted 3 Four-Leaf Clover I then headed to the 100 Acre Woods to plant the Black Rose Seed.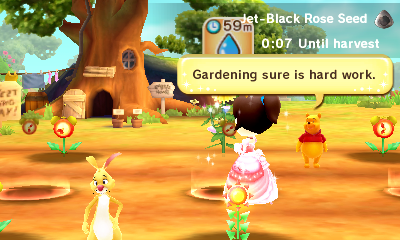 You have no idea, Pooh T~T
Thankfully, it worked and I now have a Royal Rose growing!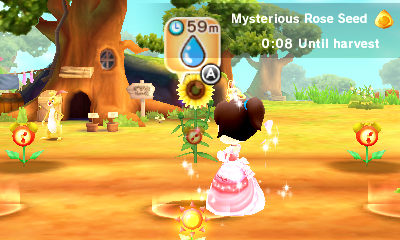 I really hope it will give me more Royal Rose seeds, but I'm not going to get my hopes up…
So it grew and I harvested and I did manage to get another Royal Rose seed! T~T Plus 3 Royal Roses! I ran off immediately to make new furniture. Roses and Bed made!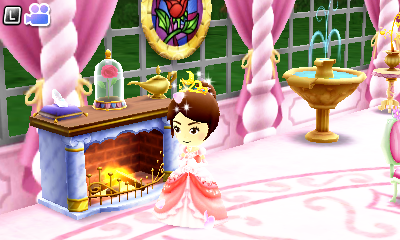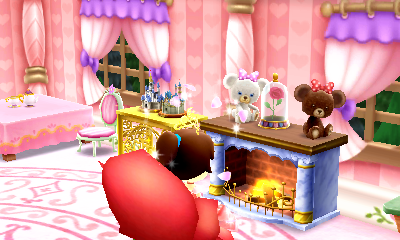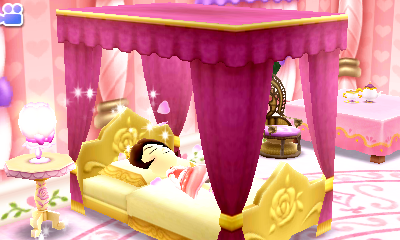 While I didn't get a seed from the other Royal Rose, I still got 3 more which was enough for the recipes I had (if I end up getting more from Seasonal Recipes or something, I will cry):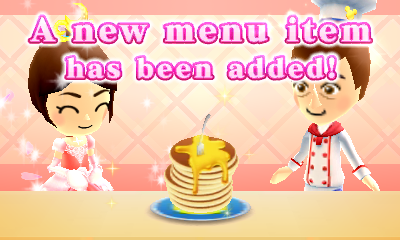 These pancakes needed Primegrain Fruit, Royal Rose, and Rainbow Honey. Wow, Donald, wow. …I totally want some pancakes now though 🙁 they really do look good.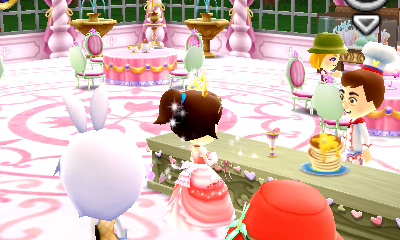 True Love Rose Ice Tea. It is pretty cute.
Now, I just need a Spooky Carrot for one more meal and I will have currently made every dish I have. So, it was off to go Honey Carrot searching in Wonderland…. but first I stopped by the Castle as I forgot to trade cards again this evening. I didn't get enough new cards for a new greeting, but I am getting closer to the 200 Card Sticker. I swear, if I get that before the Pete photo one, I'm going to feel like such an idiot.
I managed to get the Honey Carrot Seed on my first go. I forgot to open the reward chest in my excitement though so let's just hope there weren't more in there…. Regardless, it was back to the 100 Acre Wood.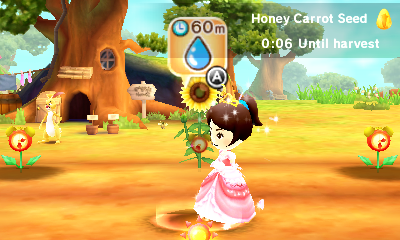 And the wait had begun.
I did get a bunch of people through SpotPass though so after getting more cards, I headed back to the Castle to do more trading. I got a couple of new cards which got me a new greeting:


"Bashful Blush"
And the Spooky Carrot gathering was successful!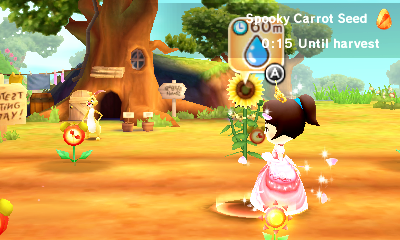 Now to wait even longer 😛
Upon harvesting it, I managed to get another seed from it. Yay! So I planted that one too and then ran off to the Cafe to make the final dish I still had yet to make: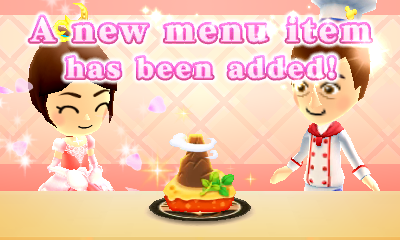 And that was it for today! Next time, I'll work on getting the other themes done for more characters so essentially, lots of item grinding 😛 Plus, my room and cafe are now up on the side 😀 Yay.
Note: I received the game early from Nintendo. Thank you, Nintendo! 😀