Posted by: Jen | on April 14, 2014
Finally hitting 100 stickers is a nice feeling. I'm hoping to work towards getting all the wands and for everyone to show up in Castleton next 😀 I'm not sure what I'll do first, but I'm excited regardless. For now, it's a new day and there's new daytime favors!:
-Resident wanted a Ruby Bubble
-Resident wanted 1 Rubber Leaves
-Scrooge wanted 1 Sapphire Bubble
-Resident wanted 3 Mystery Moth Scales
-Hercules wanted 3 Sunny Herbs
And speaking of new residents in Castleton, Phil was here today: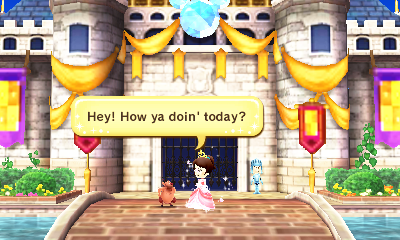 Plus, we had a SpotPass visitor!: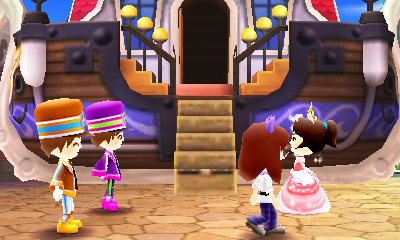 I then went off to trade cards–I still need 100 more afterall! I didn't have too much luck, but I managed to get one new card–Castleton 01. I then headed to my cafe as I figured it'd be out of food–the party meter was full so I decided to host a Wonderland party. I've only had one once or twice so I figured it'd be nice to finally have another.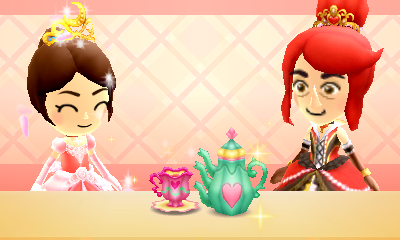 Only Alice showed up though. I think maybe I'll try a Pooh party next.
I also decided to get a fishing charm cast as I could really use some of the items from the rarer fish. Unfortunately, it didn't help at all. For now, I continued to check the cafe more often as I'd be needing to save up lots of money for the various items @-@ Plus, work on lists on the site while I waited. The party meter managed to get full and once the items sold out, I decided to get a Pooh Party together.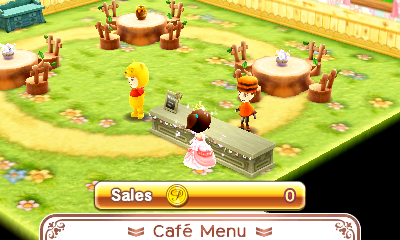 I really adore some of the food dishes: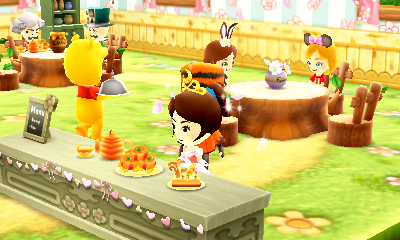 With Dishes made, I officially started the party. Tigger, Pooh, and Piglet came 😀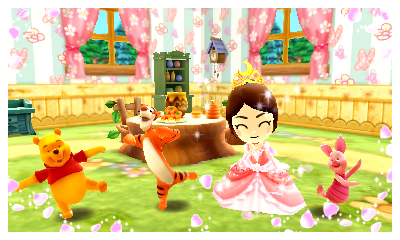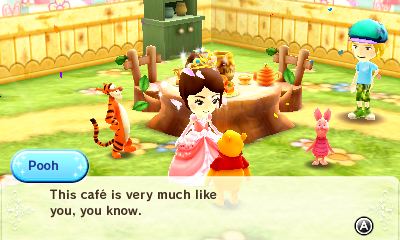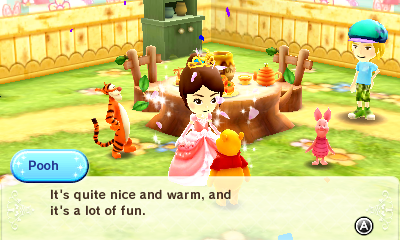 T~T <3 After doing a few more cafe refills, it hit 5PM and it was time for the evening tasks: -Residents wanted Cracked Bricks -Goofy wanted a Big Log -Hercules wanted 3 Sunny Herbs -Resident wanted 3 Pearl Bubbles. Sadly, they gave me another Jagged Egg... I was hoping for the Flower one I needed 🙁 -Resident wanted 1 Emerald Bubble And I decided to end there from fully playing so I could try and finally get the lists up on this site to better keep track or everything 😛 Plus, I'm helping my mom out with her copy. But as a nice bonus, you may remember some sketches I posted up earlier this month of artwork by super-donut… Well, the first has been finished 😀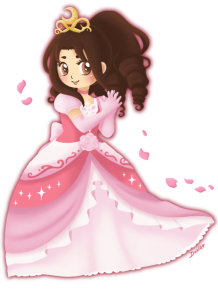 So pretty <3 Note: I received the game early from Nintendo. Thank you, Nintendo! 😀