Posted by: Jen | on April 17, 2014
So, today started a bit late. I felt sad that I didn't accomplish much last night, but I did work on some things. For now, it was daily favor time:
-Resident wanted 3 Dogbane
-Louie wanted a Stubby Maple Log
-Daisy still wants a Collection Rack
-Resident wanted Greenwood Log
-Resident wanted Pearl Bubble
One of the things I did manage to accomplish last nice was a Rare crops farm. I probably should try and get another Honey Carrot Seed though…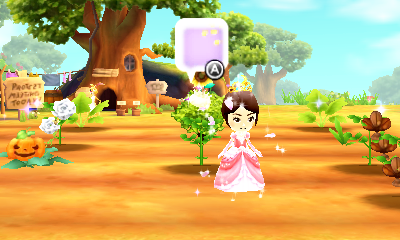 Right now, it has White Roses (which I'm hoping to get to Royal Roses), a Spooky Carrot, a Big Turnip (which I am hoping to get a Starfall Turnip from–though, maybe I'll keep growing large turnips too), Spooky Pumpkin (which may not be that rare later, but for now…), a Crown Milkberry (trying to get royal ones), and a Big Ol' Sunflower. I'm also trying to get a Primegrain Fruit and may add in some Butterynuts and Premium Sweetberries.
It was then off to the Castle for trading! I only managed to get one new card, but that was enough for a new greeting: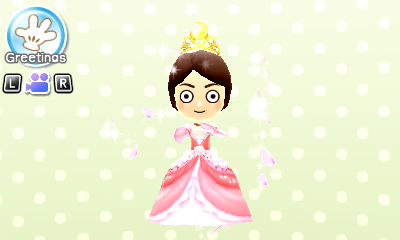 "Gesture Stop". I actually believe this is the last Greeting too if I've counted right. Sad there wasn't really anything special said about it–just seems Greetings aren't being brought up anymore.
Upon getting back later, it was time for the Evening favors and card collecting–plus I had a SpotPass alert too:
-Resident wanted 2 Golden Honey
-Resident wanted 5 Soap Bubbles
-Peter Pan wanted 3 Roc's Feathers
-Resident wanted 1 Rubber Leaf
-Louie wanted 1 Stubby Maple Log
After that, I went and traded for cards (still need to collect them all afterall) and then, it was finally time for some episodes. I decided to finally do some Aladdin stuff–as I really need the Truthstone and I also wanted to get some more Roc Feathers. Next will be Wonderland and then possible fishing for special bubbles!
If I manage to have any luck, I shall update again tonight <3 I just seem so unlucky though... Note: I received the game early from Nintendo. Thank you, Nintendo! 😀