Posted by: Jen | on April 17, 2014
While I could still use more seeds for my Rarity Farm, I decided to finally spend a bit of time in Agrabah to get the Truthstone I need. Before heading over there, it was time to see what favors there were today:
-Resident wanted 3 Soap Bubbles
-Aurora wanted 3 Fairysilk Leaves
-Resident wanted 3 Rockcandy Rock
-Yen Sid wanted 3 Sand of Truth.
-Resident wanted 15 Grace Lily
I then headed to see what SpotPass Villagers had arrived :3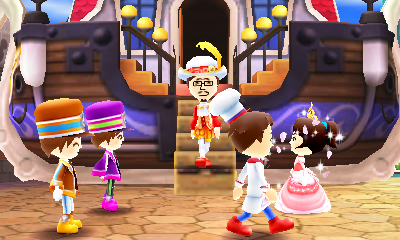 So many people… Thank you all for visiting T~T
I then headed off to go trade cards. Even if there are no more greetings I can get, I still have lots of cards I need and I was only able to get one card from Characters and SpotPass people so… @-@ But yes, New Cards:
-Disney Princesses 07
-Winnie the Pooh 08
-Lion King 03
-Lion King 01
Which brings me to 225/300 😀
It was then finally off to Agrabah. As per usual, it seems I never seem to get more than one Truthstone per go X__x I'm not sure why, but it's a bit frustrating. I decided to stop by Chip & Dale's and Daisy's to get an idea of how many I need and for what (including checking bubbles count too):
-Palace Wallpaper and Carpet – Truthstone Plate
-Pooh's Room Rug – Honey Amber Bubbles
-Spaceship Flooring and Carpet – Royal Platinum Bubbles
-Olympus Pillar – Truthstone Plate
-Futuristic TV – Royal Platinum Bubble
-Cinderella Hair – Fairy Diamond Bubbles
-Prince Charming Hair – Fairy Diamond Bubbles
-Cheshire Cat Hood – Whimsical Emerald Bubbles
-Genie Head – Truthstone Plate
-Deluxe Ballroom Mask x10 (yes, there are 10 different colors…) – Fairy Diamond Bubbles for each
-Carrot Ghost Head & Costume – Spooky Carrot and Honey Amber Bubbles
-Magician Apprentice Hat x2 – Royal Platinum Bubbles for each
-Minnie Hood x3 – Minnie Star Medal for each
-Chip Ear Accessory – Honey Amber Bubbles
-Dale Ear Accessory – Honey Amber Bubbles
-Fancy Ballroom Mask x9 – Fairy Diamond Bubbles
-Jafar Crakows – Sand of Truth, Tiger Ruby Bubbles
-Magician Shoes x2 – Truststone Plate
-Minnie Pumps x3 – Big Ol' Sunflower
-Ancient Greek Sandals – Truthstone Plate
-Desert King Quest Outfit – Tiger Ruby Bubbles
-Chancellor Quest Outfit (Purple) – Fairy Diamond Bubbles
-Heart King's Quest Outfit (Whimsical Emerald Bubbles)
-Alice Dress – Whimsical Emerald Bubbles
…It's going to be a long while before I have everything. While I was typing all that, it hit 5PM so…:
-Prince Phillip wanted a Stardust Rhinestone. He wanted to take a picture with me after!: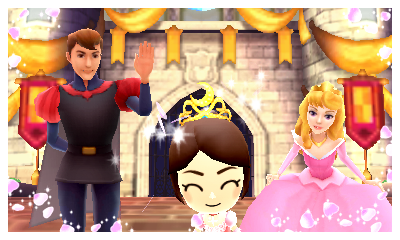 -Resident wanted 1 Emerald Bubble
-Resident wanted 1 Dewdrop Iris
-Resident wanted 15 Grace Lily
-Daisy wanted a Collection Rack
And then it was evening card trading time–new cards:
-Little Mermaid 09
Sadly, that was it 🙁 But up to 226 cards now!
And with that… back to doing episodes. Though, I may spend some time over the next few days working on site stuff…
Note: I received the game early from Nintendo. Thank you, Nintendo! 😀