Posted by: Jen | on April 25, 2014
Unfortunately, haven't felt too well lately so decided to make a jumbo update instead as I've still been documenting things and updating pages!
Day favors for the 24th:
-Resident wanted 2 Golden Honey
-Resident wanted 3 Rockcandy Rocks
-Resident wanted Big Acorn
-Yen sid I honestly stop checking when he shows up since he never wants anything but Royal Platinum Bubbles or Sand of truth and both are awful to get and his rewards are horrible. >> I'll do his favors eventually when I have better luck or have gotten most other things down as I'm sure he'll offer another picture or something and it may be different than the one at 100 stickers, but just like that one–he'll need to be saved for last at the moment.
-Aladdin wants 3 Oasis Dogbane for Carpet
Evening favors for the 24th:
-Resident wanted to see me in a Western outfit
-Resident wanted 1 Rubber Leaves
-Beast wanted 3 Pink Lily
-Resident wanted 3 Diamond Bubbles
-Alice wanted a Tea Party Table
New cards earned:
Daisy Duck 15
Halloween 02
25th Day:
-Aladdin wants a Genie outfit.
-Daisy wants a Collection Rack
-Resident wants 1 Pearl Bubble
-Resident wants 3 Cracked Bricks
-Resident wants 10 Bright White Roses
Also, still getting lots of SpotPass visitors each day T~T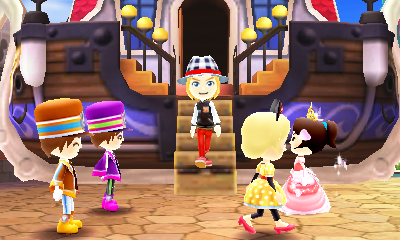 Thanks again to everyone who visits.
I also finally got another of the Shrinking Bottle thingys for Alice in Wonderland so now I can finally host a 8-combo party for that theme…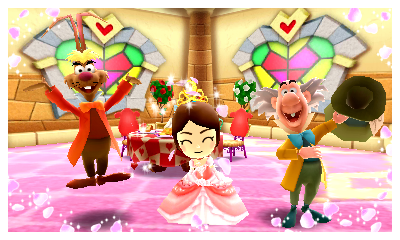 The Mad Hatter and The March Hare showed up! 😀 This means no chance at the Wonderland Medal, but yay for a new photo and new characters in Castleton.
Evening Favors for the 25th:
-Resident wanted a Big Log
-Resident wanted 3 Soap Bubbles
-Aladdin wanted a Large Water Jug! Yaaay. I've been waiting for this one as it gives me a new recipe. He took a picture with me as thanks: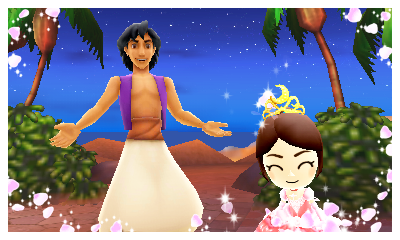 And the Water Jug is quite pretty: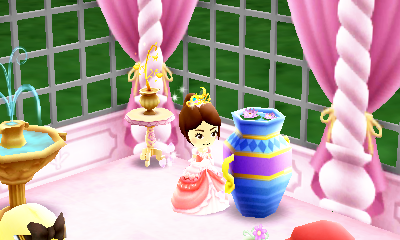 I love the lilies and water in it the most though versus how it looks on the outside… doesn't fit much else.
-Louie needed help with Dewey's riddle again
-Resident wanted 1 Exotic Coffee
And Snow White wanted to take a picture!: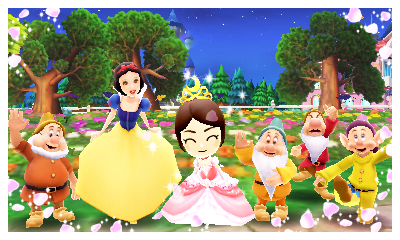 Finally, new cards:
-Tinker Bell 01
-Tangled 04
-Snow White 10
-UniBEARsity 15
-UniBEARsity 04
-Lion King 05
Not too bad… Up to 251 cards now @-@ 49 to go.