Posted by: Jen | on March 20, 2014
So, I was pleasantly surprised to receive a copy of Disney Magical World from Nintendo! (THANK YOU NINTENDO!) Thus, as soon as the download finished, I immediately got to playing. And I was very excited to see "Magical AR" in the menu!
I was soon greeted by Letitia (if only she told me how to say her name!) who gave me my passport to Castleton. I was actually really excited with the character creation! While the hairstyles felt a bit lacking (although, you DO have the option to use your Mii instead), I was more than happy to see a ponytail option and there were a good amount of hair colors and a large amount of eye color options and quite a good number of eye styles as well (and even an eye shadow option for at least girls! Not sure about guys). You have 10 characters to write your name as well 😀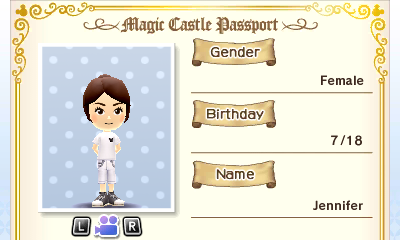 so excited T~T (obviously you don't get to pick an outfit to start but still!)
Arriving in a house-hot air balloon that made me think of UP, I was greeted by various people.


I feel like a Princess already T~T <3 After chatting with everyone, I ran up the stairs and well...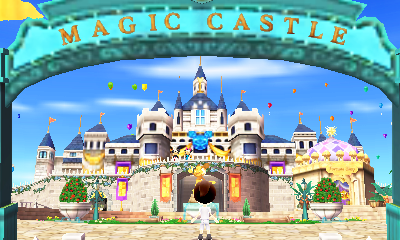 so so so so so so excited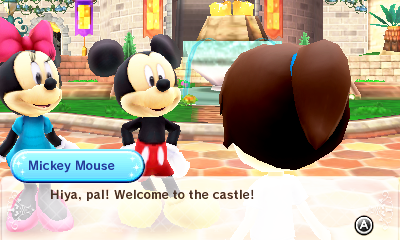 😀 😀 😀

After talking to them, I got a cute hat and my first quest: To go talk to the rest of Mickey's and Minnie's friends.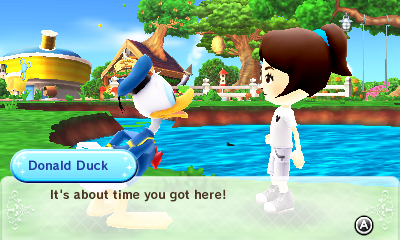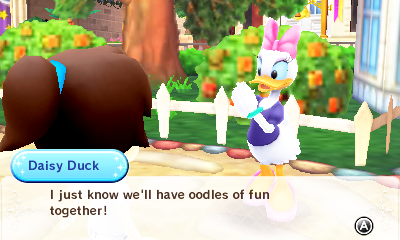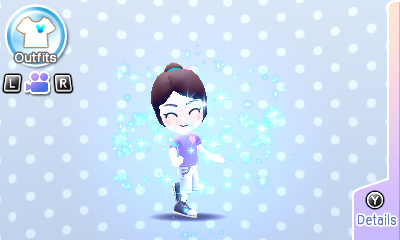 New top from Daisy! I can't wait for her shop to open.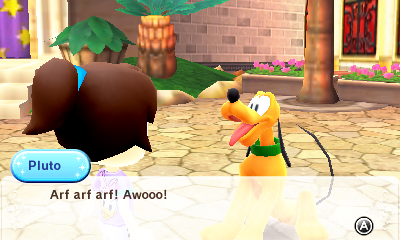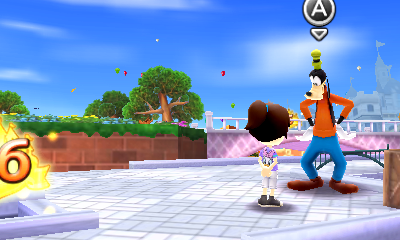 Goofy makes me feel so short…
Upon heading back to Mickey, I received my very first Happy Sticker!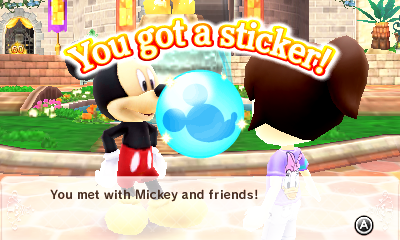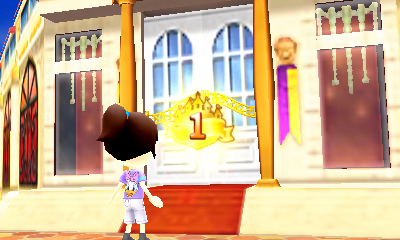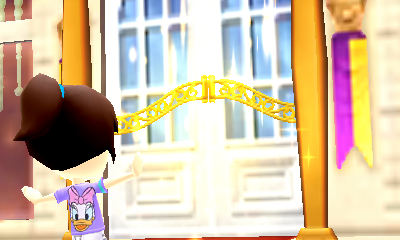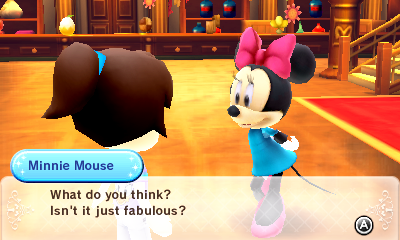 So excited to go shopping!
Minnie was nice enough to treat and I really wanted something a bit more girly, so I picked up this: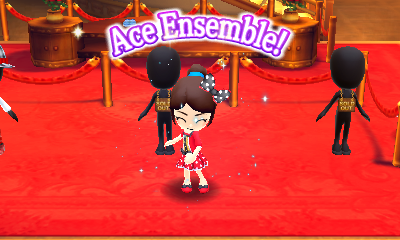 There were several cute things though, but this was the only full outfit. And it earned me my second sticker!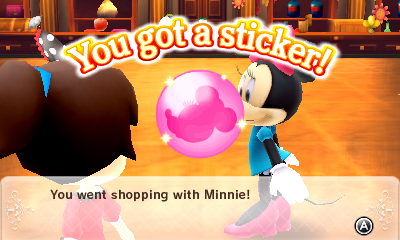 Apparently others also enjoyed my outfit!: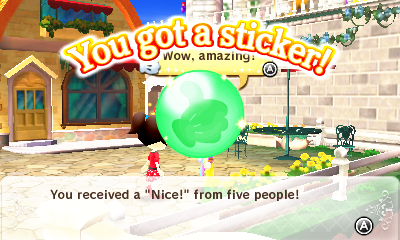 I stopped back into the shop to check on some of the other stuff I liked… The shoes I wanted were gone though and everything else I liked was too expensive. The Marie Stylish Jacket, the Pooh Stylish Shoes, the Scrump Doll, and the Simple Mini Light T~T One day…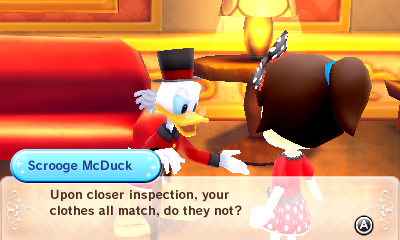 I enjoyed examining all his paintings upstairs though!
After looking around and taunting myself with items I can't afford, I decided to see what the next thing I could unlock was: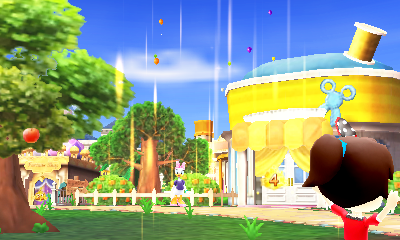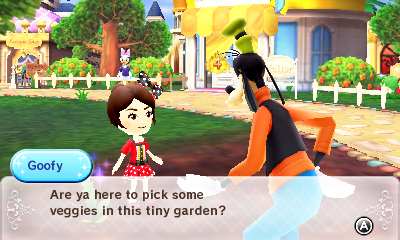 So exciting T~T Now I can gather sparkly things!
Once I stopped being distracted by harvesting sparklies, I went to see if I could help Daisy out.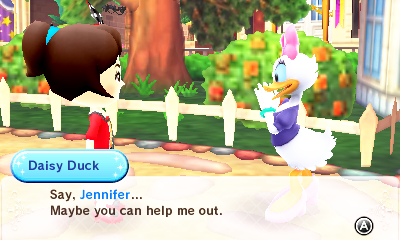 Lucky for me, I already had what she needed! With that, I received another Happy Sticker and was able to unlock her shop!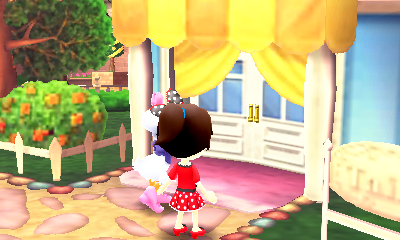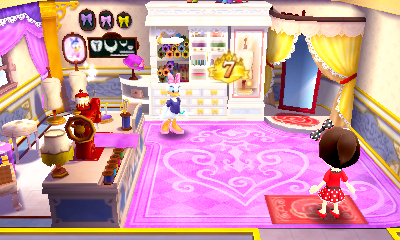 So cute T~T I made some casual stuff for the next sticker, but I hope I can make some pretty dresses soon!
It was then onwards to unlock access across a bridge! There I met the Chancellor who needed my help to find something! As I looked around, I also picked up a request to make a Headband for someone. Unfortunately, I missed that she wanted red and made blue so I had to make another one 3 Thankfully, I was able to re-earn what I needed quickly enough. As thanks, she ended up giving me the card that the Chancellor had been looking for!

So many lovely coins T~T <3 And I received permission to visit the King (and had enough stickers to unlock the entrance).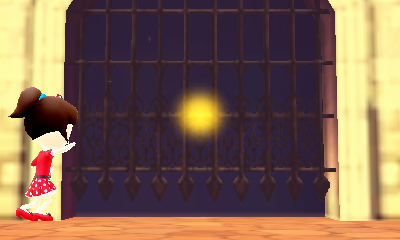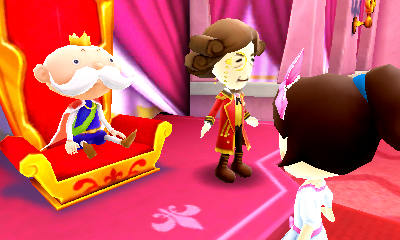 From the King, I received the Card Album! 😀 I also learned how to wave <3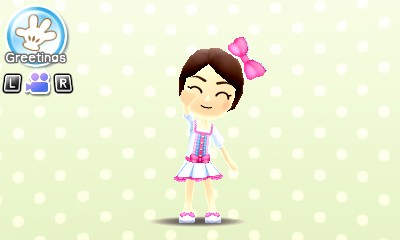 With that, I unlocked two more areas today! (Seriously, this is just the prologue and it's so much fun <3)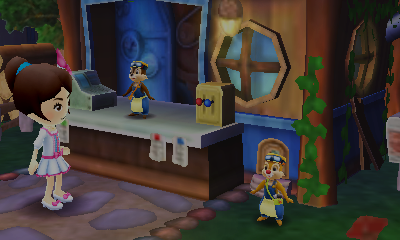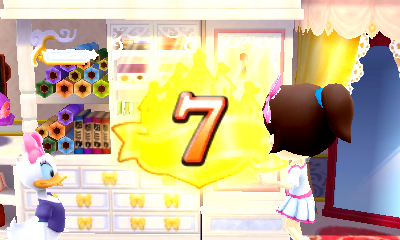 And I got to start the road to having a fishing pole!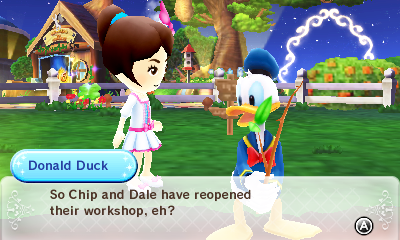 Inbetween gathering what I needed for the rod, I also went around and earned some cards! I ended up getting some doubles, but I still had a lot of fun 😀
It took me a bit to get the hang of fishing @-@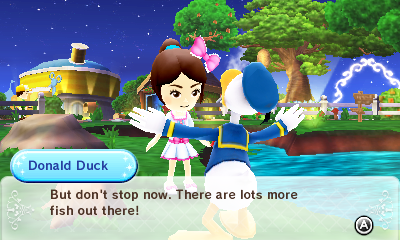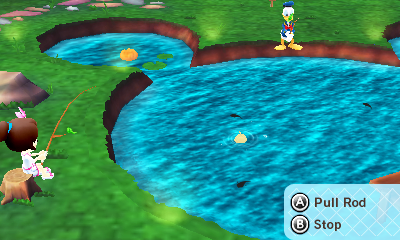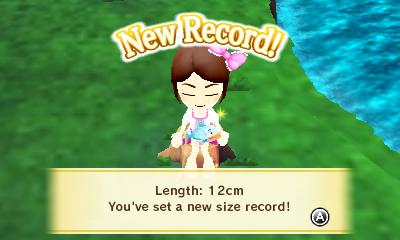 With that, I was able to open the chest and become the new Cafe owner!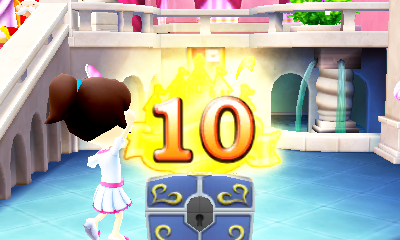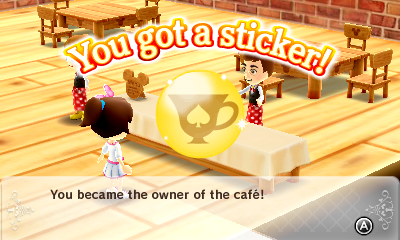 I also learned 2 new greetings <3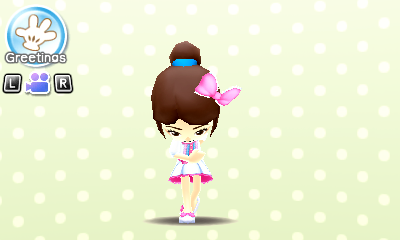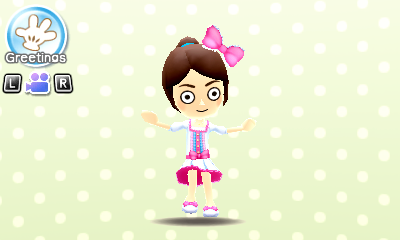 My first photo: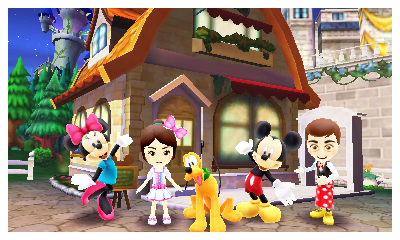 And continuing work at the cafe: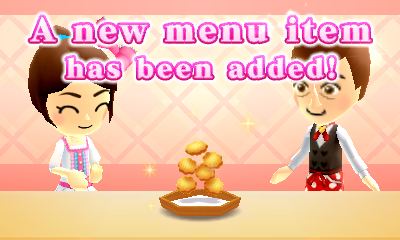 I'm a level 2 Cafe Owner now! 😀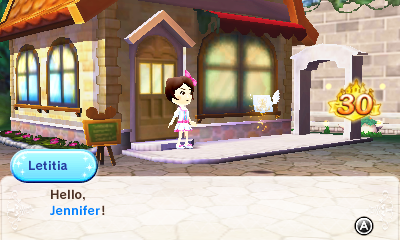 I was then greeted by Letitia (who now wants me to just call her Letta) telling me that I had a letter from Yen sid and that he wanted to speak to me.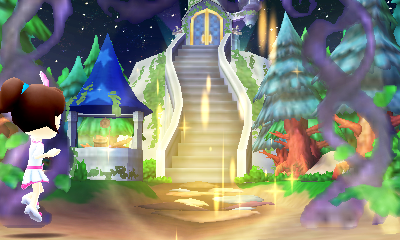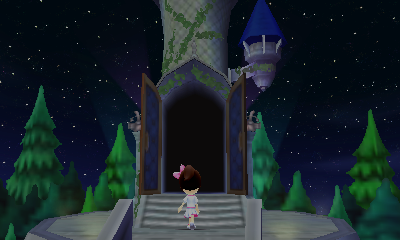 And with that, I received my first wand!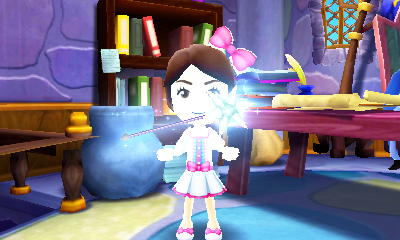 CINDERELLA'S WORLD 😀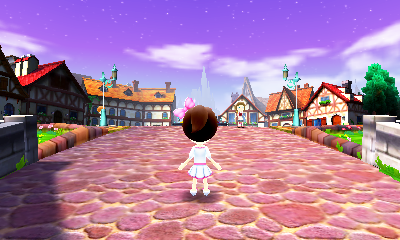 I'm not very good at the dancing game 3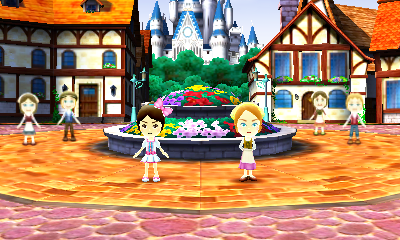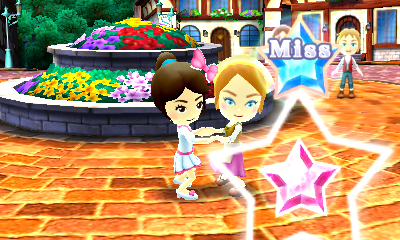 Quest complete!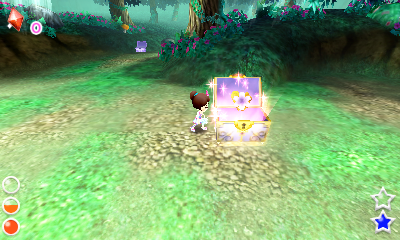 I'm pretty bad at the fighting too. 😛 It'll be hard to choose whether to save or spend my gems T~T
And with that, I hunted for Bendy Bark to make some quest clothes which officially finished the prologue!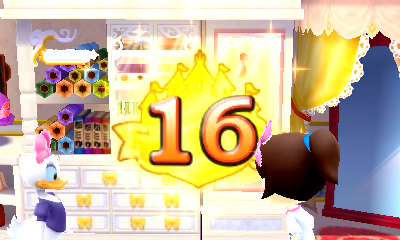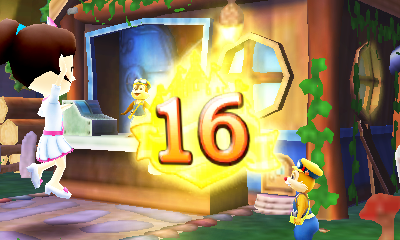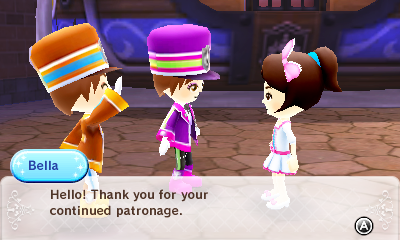 After unlocking various 16 Happy Sticker things around Castleton, I decided that would be it for today <3 Still, super excited StreetPass is all set up now 😀 Only sad thing is I don't think I'll get these favors done in time... as it is, there's a couple I'm not sure how I'd get done without some other areas opening up first. Oh well 3 Other fun tidbits: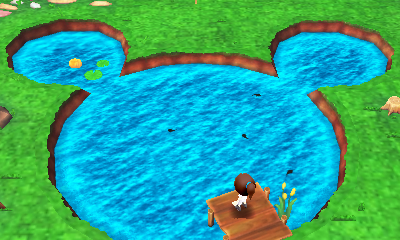 The shape of the fishing hole should surprise no one. 😛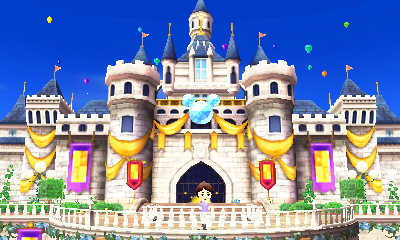 I love the view T~T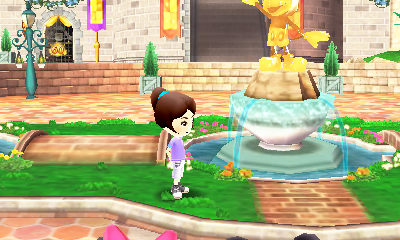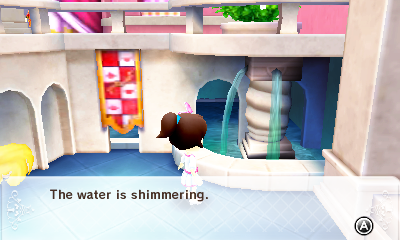 FOUNTAINS <3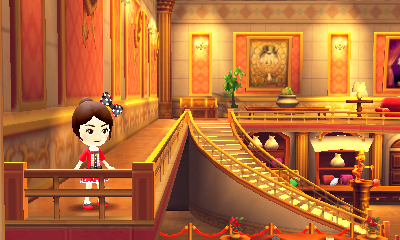 So fancy… Probably why I can't afford anything 😛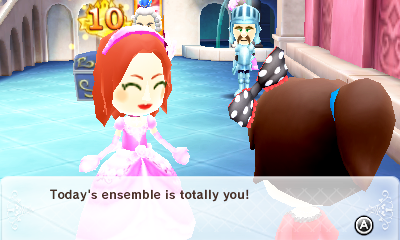 I need that dress.