Posted by: Jen | on April 9, 2014
Bonus: Before we get to our normally scheduled entry, I would just like to mention that I have officially finished my review for the game! If you have any interest in the game and want some insight that isn't me squeeing over everything, that would be your best bet 😛 Now onto your scheduled entry…
MY SPOOKY PUMPKINS HAVE GROWN 😀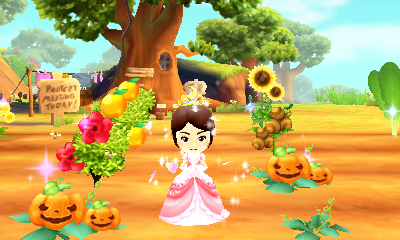 Once I stopped running around in circles of excitement (if only I had gotten another seed from them though…), it was time to see the favors for the morning!:
-Resident wanted 2 Golden Honey
-Stitch needed a new surf board
-Huey wanted me to solve his riddle: "Underground in a sandy land, A Prickly heat is near at hand." He wanted a Spicy Spicefruit.
-Resident wanted a Dewdrop Iris
-Resident wanted a Mickey Headband (Yellow) and offered me a Spritely Spring Salad Recipe!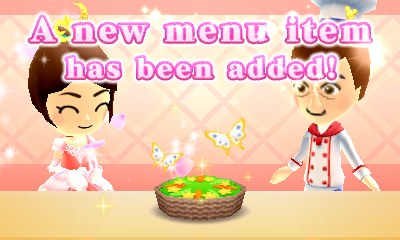 Just one food recipe left now 😀 Such cute butterflies T~T
Besides that, my Room and Cafe are pretty much set…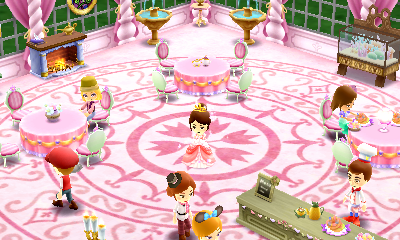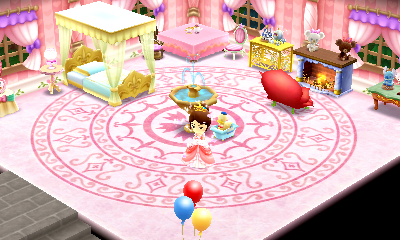 The only things they need are both stuff that requires Royal Roses (Such as a Magic Rose Ornament for both and the Rose Goldwork Bed), but I think these are more or less the items I want to keep. I may switch some out as I unlock some of the items that I am not entirely sure how they look just yet though. Because they are pretty much close though, they will be put on the side soon 😀 How I wish there was a bigger item limit though…
I didn't get to play more until the evening, but I had a new SpotPass alert waiting and it was after 5PM which meant new requests too!:
-Resident wanted 3 Ruby Bubbles and gave me a Mickey Easter Egg!: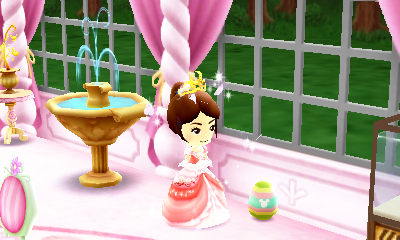 -Resident wanted 1 Pearl Bubble.
-Scrooge wanted 5 Inky Bubbles. He then wanted to take a picture!: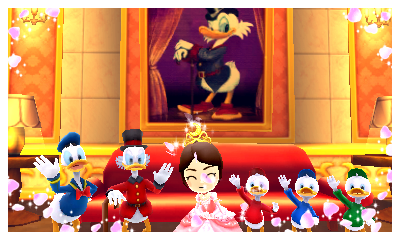 -Hercules wanted a Sparkling Jasmine. He then wanted to take a picture with me too!: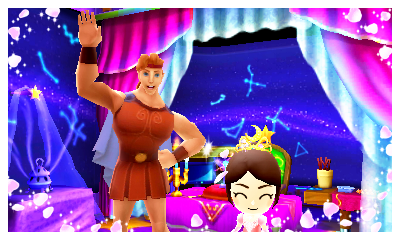 -Resident wanted 3 Four-Leaf Clovers
I was sad to see Pete not here again… It seems I really screwed up not getting the paint fast enough one time as now I've unlocked so many characters who can appear, the chance is a lot lower for him to show up needing a favor 🙁 I know I'll always have a chance for it, but I do feel like I kind of screwed up. On the bright side, I managed to get one new card from going around for the first time in forever (and now I have that song stuck in my head…). I then stopped by to see who was visiting today 😀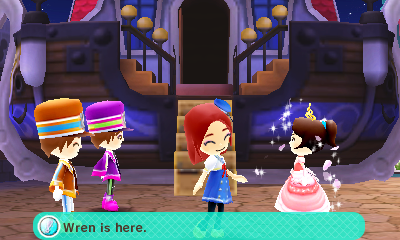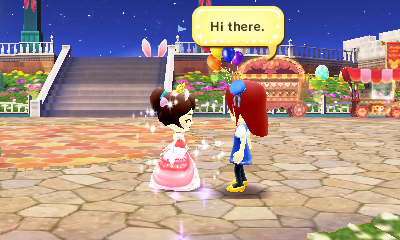 Hi 😀 I also made sure to stop by their Cafe!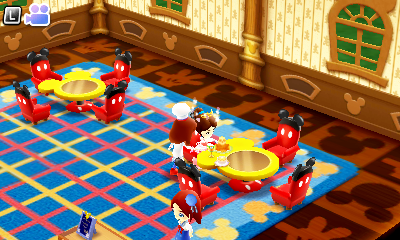 And then I hosted a random Peter Pan party because apparently I like making things harder for myself 😛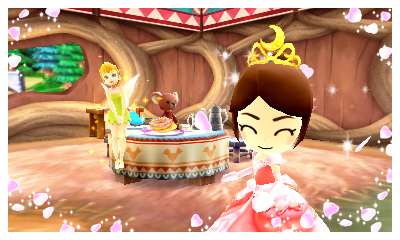 Tinkerbell showed up 😀 Which means I've gotten all the Peter Pan characters now in Castleton.
With that all done, I headed to the Castle to try and trade the extra cards I had gotten. I managed to get a good amount of new ones and unlocked 2 new greetings for the first time in forever 😀 (…I need to stop saying that)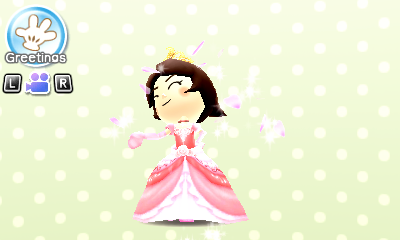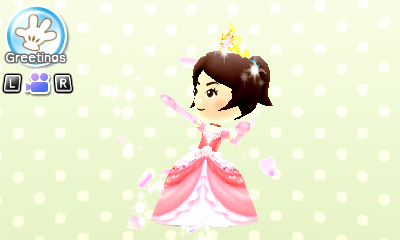 "Smug Pose" and "Heroic Pose"
It was then finally back off to Wonderland.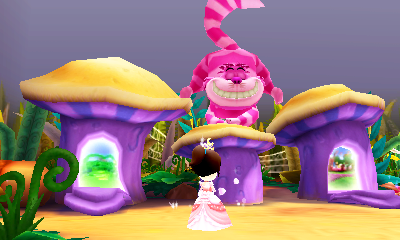 Despite many tries though, I still failed to get any Rose Seeds or the Rainbow Clover Seed 🙁 Shall have to try again tomorrow…
Note: I received the game early from Nintendo. Thank you, Nintendo! 😀