Posted by: Jen | on April 15, 2014
So, last night I ended up playing a bit in bed due to not being able to sleep. I managed to get a few more cards from SpotPassing, 2 of the special Cinderella Bubbles, and a good amount of Royal Roses in my quest to get a new Sunflower for rainbow honey.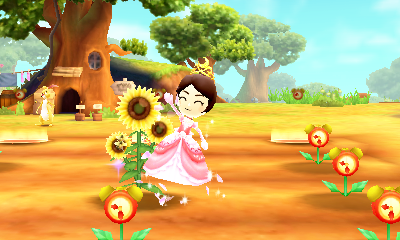 Sadly, I wasn't able to get over to Aladdin's World… or get anymore fancy bubbles either.
I seem to have the worst luck of the rare fish from Pooh's World–which stinks as several of his "rarer" furniture need it. And I am having a hard time deciding what to use the bubbles on out of Cinderella's stuff–though, I have time to debate it since I have to save money back up. I'm leaning towards one of the Level 5 quest outfits (random fact time: My favorite Cinderella one is #4 because Pink/Teal, favorite Wonderland is #3 which is one of my favorite alltime outfits, and my favorite Agrabah ones are the first two pinkish ones) as I should get one even if the current one is my favorite plus the masquerade mask I want.
Anyway, it's time for favors soooo….
-Resident wanted Diamond Bubble. She gave me the Flower Egg!: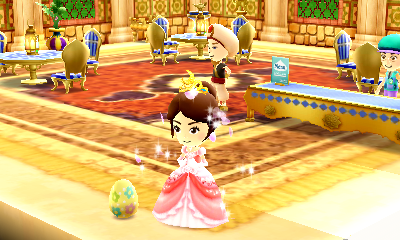 This means I'm done with Easter now 😀
-Resident wanted 2 Polkadot Tulip
-Resident wanted 1 Emerald Bubble
-Jasmine wanted 2 Roc's Feather
-Chip asked for the Broken Clock Gear again… Unfortunately, I still don't really have time to go look for one for him before I have to head out 🙁 Blah. I did end up doing a quick speedrun of the quest, but I didn't get one and didn't have time for another run…
Castleton seemed rather empty today though. I don't know if I've just been spoiled lately or if the randomness decided not to put many characters out today. Regardless, once I finished card collecting from characters and SpotPass Residents I headed to trade 😀 I got a few new ones which got me enough for a new greeting:


"Shocked Pose". One of the new cards I received was a Castleton one–if I had any art talent, I think it'd be fun to try and draw my character like one of the Castleton cards: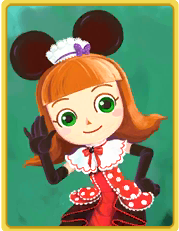 I also randomly held another Aladdin-themed party… Genie and Carpet showed up!: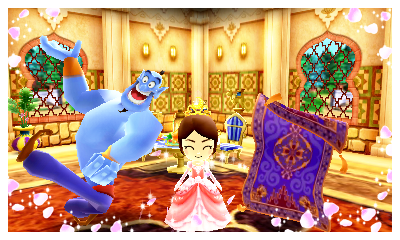 And then, it was off to take care of things for today @-@
As expected, I got back too late for Chip's quest, but I may try and get the Broken Clock Gears regardless as I'm sure the quest will pop up again… For now, it's time for evening favors:
-Aladdin wanted 3 Oasis Dogbane
-Resident wanted 5 Soap Bubbles
-Resident wanted 3 Four Leaf Clovers
-Resident wanted 3 Cracked Bricks
-Daisy wanted a Collection Rack
I then stopped by the Cafe to get my earnings plus refill it. I spent most of my earnings on more furniture stuff to work on some of the other themes I'll need to accomplish. Then it was off to the Castle for card trading. Sadly, I didn't have much luck there either :/
I had wanted to do more (Wonderland, Agrabah, and bubble searching), but I ended up having to take care of other things 🙁 I suppose I'll write again if I get lucky inbetween though!
Note: I received the game early from Nintendo. Thank you, Nintendo! 😀