Posted by: Jen | on April 27, 2014
I had saved in my room last night so after talking to the Mirror to get some new SpotPass Visitors and re-upload my Cafe, I decided to go down and have a party.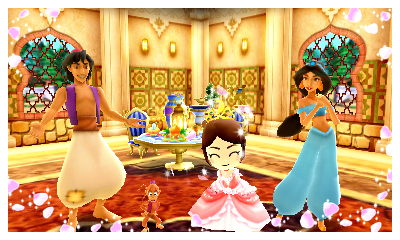 I'm still working super hard on the medals, but have yet to get lucky besides Minnie's that one time :/ I really want to get all the wands, but I'm sure feeling discouraged in that regard… I know the best way to do it is to grind up tons of everything (I should probably start aiming for the max of 99), but I just seem to be so unlucky with getting things to show up in the first place T__T I also wish it saved staff outfits as part of a layout. Getting tired of always switching them 😛
As soon as I headed out, I saw a resident looking for a favor so…:
-Resident wanted 3 Emerald Bubbles
-Hercules wanted 1 Sparkling Jasmine
-Resident wanted 10 Bright White Roses
-Huey gave me his usual riddle.
-Resident wanted Golden Camel Handicraft
After collecting cards from everyone and shopping, I headed to the 100 Acre Wood for farming. I really need to get my supplies up X__x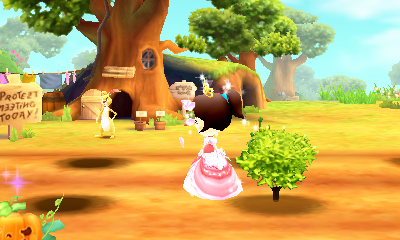 Also need to get more Fortune and Wishing Herbs already…
I had to work late tonight though so it was long into the evening when I got back… thus, Evening favors:
-Belle wanted 3 Sweet Tomato
-Resident wanted 15 Golden Sand
-Mickey wanted 1 Polka Dot Tulip Seed
-Resident wanted 1 Ruby Bubble
-Resident wanted 3 Dogbane
I also made sure to greet more people.

New Cards:
-Disney Princesses 03
-Winnie the Pooh 09
-Little Mermaid 05
And that was it for today <3 (mostly due to getting home so late..) Note: I received the game early from Nintendo. Thank you, Nintendo! 😀