Pete
now browsing by tag
I immediately noticed the SpotPass alert on the game. I guess I'll start seeing these all the time now though 😛 I probably will have to turn it off eventually (at least the one on the game itself–the blue dot will drive me nuts), but I do want to keep it until I at least get all the cards… which is probably going to speed up immensely and leave me just needing Pete's photo… 3 Regardless, it is early morning and thus TASK TIME: -Resident wanted 2 Golden Honey -Donald wanted to see me in a girl version of his outfit. -Resident wanted Teeny-Weeny Mushroom -Resident wanted a Zebra Mickey Headband and offered me the Easter Rug Recipe!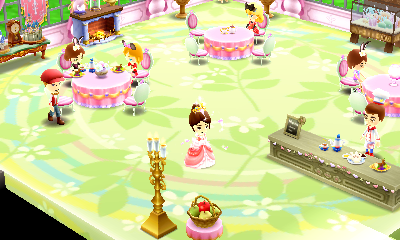 Sooo cute. And now just one egg and the counter to go!
-Hercules wanted 3 Sunny Herbs
(I realized I've called these so many things. No, I still haven't made up my mind on what I want to, but they are actually labeled as Favors in the menu :P)
After collecting cards from everyone, I went off to the Castle for card trading. I managed to get a couple of new cards, but not enough for a new greeting.
Once I finished with that, I headed to NYC for the Disney Magical World event at the Nintendo Store! It was really cute and the cupcakes and punch were great. I even helped out one of the workers and gave her some Spidersilk fabric. It was my first time using the Wireless feature which was nice. Terrible picture of me in her cafe: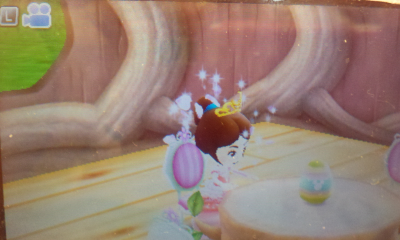 (thank goodness I don't normally have to take pictures with a phone–I'm an awful photographer)
It turned 5PM by the time I got home and finished writing about said event so it was time for evening favors 😀 Plus more SpotPass:
-Resident wanted 2 Poppin' Corn
-Resident wanted Caravan Cloth
-OMGPETEWANTSAFAVOR…ahem… Pete wanted 3 red paint. I finished this immediately. *CROSSES FINGERS FOR PHOTO* …darn it 🙁 WAIT THERE IT IS OMG.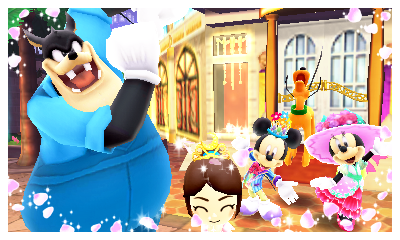 yeeeeeeeeees. STICKER 99.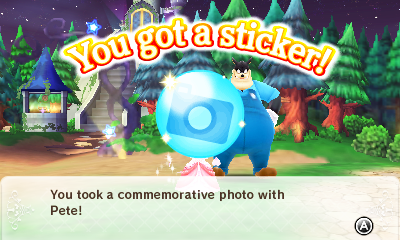 YES YES YES YES YES. Now I just need 200 cards!
-Mickey wanted 3 Hopscotch Stone (Sorry, Pluto)
-Resident wanted 1 Fluffy Dandelion
After that, it was time to see who I got in SpotPass and then off to the Castle for more card trading! I managed to get a few new cards plus a new greeting!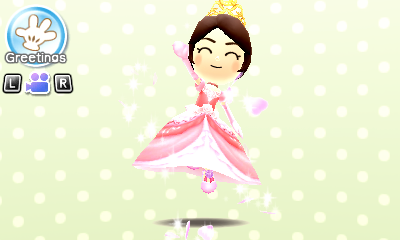 "Jump for Joy". This is fairly appropriate. I even set it to my left D-Pad replacing spellpound.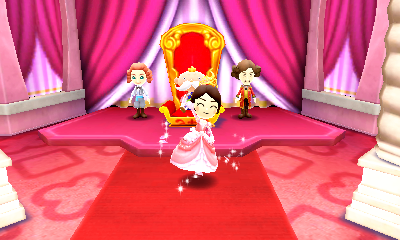 WOO! 😀 (please ignore the fact that it almost looks like I'm about to uppercut the King)
Then, I decided to work on getting some of the rarer items I needed like the Truthstone plates for the Olympus Wallpaper and stuff… thus, it was adventure time 🙂 But I'll end this here as I tend to be awfully unlucky and don't expect to have much to say 😛 If anything good does happen, I'll post something else (or you can keep an eye on my Twitter!
Note: I received the game early from Nintendo. Thank you, Nintendo! 😀