Posted by: Jen | on July 25, 2014
So, today, the final Nintendo Zone item is out for 2 weeks–the Green Minnie Polka Dot Set. It consists of 1 Minnie Polka Dot Headband (Green), 1 Minnie Polka Dot Dress (Green), and 1 Minnie Polka Dot Pumps (Blue):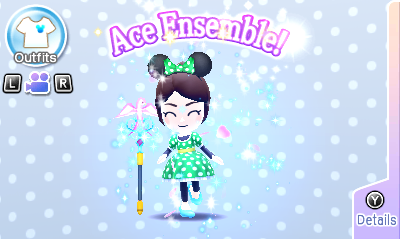 Yep! Not Pinocchio this time. I don't know if they will be releasing the items again or not (I'd think so), but since they finally got the Nintendo Zone page updated, hopefully people can keep an eye on it! The DLC shop ingame should be updated in about a week.