Blog Related
now browsing by tag
Posted by: Jen | on October 15, 2016
Posted by: Jen | on July 30, 2015
So, after a bit of debate, I've decided the best way to do it is to actually post the actual content on my official site. Anything related to the first game will still be put here, but due to the fact that many items will be re-gotten in the second game, it'll be much easier to keep track on the main website than to try and re-work this site to fit for both games.
At the moment, I have not set up the page for DMW2 due to the fact that we do not have a release date in the US yet, but once it does, there will be a link on the sidebar of my main website (although, most of it will be a placeholder until I actually have the game).
That said, all posts will still be crossposted to the Tumblr blog.
Posted by: Jen | on April 6, 2015
You may have noticed I didn't update on April 1st. I wanted to try and give it a bit just incase it could be late, but there has still been no new DLC for the game and as Japan is no longer doing DLC, something tells me we are not receiving any DLC anymore. We have received everything Japan gets so it's pretty much a matter of nothing else being developed for the game which is disappointing. There are so many items and themes that do not belong to a set and so many areas of the game that could easily be expanded. This is truly a game that could've been wonderful and has so many options for more DLC–it's a shame they won't ever be taken.
That said, with no new content the blog will come to an end at some point and updates will be scarce. Other than having to make certain items, I've pretty much completed the game. I have all the recipes, my cafe has been finished for ages, I have all the medals, I've gotten every photo, my card album is complete, etc. The only reason to keep going is for completion sake at this point.
Regardless, the game is still a good game. I just wish they continued with it.
Posted by: Jen | on March 19, 2014
One question I received recently after mentioning what I was looking forward to is what I'd be worried if it was removed or not done. I'm hoping my worries will be for naught, but here's a list along with reasons why I think they could get removed:
1. The AR Cards – This kind of hits two things–both the cards from the Japanese version working and also if there will ever be new ones. Many things, such as QR Codes, are region locked to Japan–not everything of course (Animal Crossing and Pushmo are good examples of games with QR Codes that are not region locked), but it makes me wonder if the same would be AR Cards–currently, the AR Cards we don't have are limited to games that aren't out here, such as this adorable "game". While I don't use the AR function as much as I'd like (terrible lighting where I live makes it hard), it's something I enjoy playing with when I can… and part of it is also that the only big AR thing we have are the original games we had received upon the 3DS' release.
Honestly, if we received those pre-paid cards with the cute AR Cards, I'd easily be buying up a bunch of eShop points for them because I think they are adorable and I'd want to collect them all. I think the AR Cards for items could go well–heck, Disney has had grab bags and booster packs before that I think could work well with them too (and sure, I'd hate the randomness, but at least they'd be brought over). Though, as long as the Japanese cards work, I wouldn't be too upset–I would think it'd be a missed shot for more AR Card chances though.
2. DLC! – Besides the DLC packs for new worlds, I'm also worried the various DLC that has come out in Japan may not make it over. I've loved all the DLC and would immediately buy them, but even then there are some I'm worried about more than others between things like the Hinaningyou becoming a Japanese region only item in Animal Crossing after the gamecube version, the Quiz DLC case being cut from Ace Attorney: Dual Destinies, and the Kimono Shop for men in Style Savvy: Trendsetters being taken out, it always worries me sometimes when I see packs that focus a lot on things that are Asian Cultured. I really hope they leave it in (and bring over all the DLC honestly)–it's a beautiful pack. Not to mention Tokyo Disney is amazing and Epcot has a lovely area in the World Showcase for Japan as well.
3. Campaign items. What most people don't realize is Disney Magic Castle is based off an online game which is part of why I had been worried it wouldn't have been brought over (not enough words for how happy I am that they did). Regardless, we don't have that game which means we can't do what's needed to get the outfits. I'm hoping there will be another way to get them (Similar to what Professor Layton and the Specter's Flute did with London Life as the code feature was removed) and they won't just be gotten rid of.
In a similar note, since we do not have the UniBEARsity brand over here, I'm also curious how that'll go. I hope they do stick around over being removed, but I don't know how they'd bring them over if the AR Cards are region locked.
4. 7-11 Items – If only our 7-11's were as awesome as the ones in Japan… Getting to the point, 7-11 has a lot of exclusive items. This isn't really new (I mean, there's a whole 10 item set in Animal Crossing) and has happened more and more in new games which makes me wonder if we will see the 7-11 items. Most of the items are not actually 7-11 themed (I recall a large amount of Pinocchio themed stuff being some of the items you could get from there) so I'm hoping that means they will have a chance to show up as DLC. The only item I heard that was really 7-11 themed was a Minnie-themed dress that was green and orange–whether it had 7's all over it or not, I don't know, but I kind of hope there's a chance we'll see it brought over too. Even if it's modified a bit.
And to end it, something I know I won't see, but hope changes in the future: There's no online gifting. You can only gift over local wifi. While I will definitely be playing the game with my family, most of my friends who are big Disney fans do not live that close which makes it a bit disappointing that I can't do more besides visit their cafe and rate them. Regardless, I'm looking forward to seeing their cafes and getting them some items through nice ratings.
With that said, the fact that the game is coming over really just makes me more excited than everything despite worries of things that may not be–the game still looks amazing and I can't wait to play it when it comes out next month <3
Posted by: Jen | on March 12, 2014
So, with just a month to go (or well, a little under now), I have finally managed to get this up. Originally, I was just going to do something small, but the more I heard the game had, the better I felt it may be to keep up. Don't expect super long entries like my Animal Crossing blog though–I think this one will be more checklists and notes.
Moving on, if you've seen My Tumblr for the game, you'll know I'm pretty excited. The game seems to be a cross between Animal Crossing and Harvest Moon (two of my favorite games) with a few things that remind me of Fantasy Life (which I'm still hoping will come over). I actually did not expect this game to come over (though, that didn't stop me from sending emails out to let them know overseas fans wanted it…) so it was a really pleasant surprise to see it announced (I am also looking forward to Tomodachi Collection!). As for what I'm looking forward to the most? I don't know! I'm really looking forward to a lot of it–if I had to pinpoint it down, I'd probably just say exploring in general.
I love Disney. I've gone to Disney World every year since I was born with my family so it's practically a tradition. I've been to almost all of the different Disney parks (Still need to visit Hong Kong Disney) and so a Disney game where I can explore and see all my favorite characters gets me pretty excited. If you like Disney, I really hope you'll be picking the game up and if you may not be too big on Disney, but still enjoy things like Harvest Moon or Animal Crossing, I'd highly recommend picking it up too.
In the meantime, I'm hoping the QR Codes in Japan will work for the US game–though, I'm not going to get my hopes too high. At the very least, if they do, I hope there is a chance we could see the UniBEARsity line over here at some point–I know I was super excited when they brought Duffy over to the US parks so I'd love to see UniBEARsity come to our Disney stores. Speaking of Duffy though, considering his popularity (and Shellie May's), I'm very surprised he isn't in the game! I really hope he'll be added as DLC at some point… In fact, I hope the game does well enough that DLC keeps coming. I'd love to see the Disney World keep growing with characters from new movies. I think it'd also be a good way to keep the game interesting.
Anyway, on an ending note with some more blog-focused stuff: While this blog is "done", the content still has a lot of work to go. There is a good chance many things will be removed and/or changed. The layout is completely set though. And as a fun tribute (and I guess Easter Egg for the site) that those who played Pixie Hollow with me may realize… The Fairy over in the top right in a Tinkerbell pose is actually my Fairy from Pixie Hollow named Dewdrop Moonflower: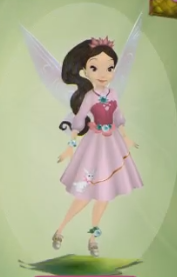 Sadly, the last picture I managed to get of her wasn't a very good one 🙁 Regardless, the full-version from the logo: